In a pickle trying to figure out what to wear for all the holiday festivities this year?
Not to fear! Rent the Runway is here!
Seriously ladies. If you don't know about Rent the Runway yet… I'll pray for you. LOL but for real, this clothing rental service is revolutionizing the fashion industry. And if you're still scratching your head about what this is…click below.
READ MORE: HOW RENT THE RUNWAY CHANGED MY LIFE
Okay, now we've got that out of the way… A few of you (and by a few I literally mean 2…hey it doesn't take much to get me to create content for you) asked me to do a post about my Rent the Runway picks for the holiday season. So I said 'THANK YOU for the great content idea' and decided to run with it. Hey maybe we can make this a seasonal thing if you like it.
ANYWAYS… I'm going to share some of my favorite things I'm renting right now. Everything from Christmas & NYE outfits to what to wear to your super formal Grandma's holiday party and that black tie NYE party you're still hoping to be invited to.
OOOO and before I forget… For any of you RTR newbies… For $50 off your first 2 months of Rent the Runway Unlimited use code: APIERCE100
CHRISTMAS WITH THE FAM BAM
Cedric Charlier:Golden Sky Pleated Skirt
While the backdrop of this photo might not scream holiday, this skirt sure does.
If you're like me the holidays are ALL about sequins. Sneak some in with this festive and COMFORTABLE skirt!
Jill Stuart Black Velvet Dress
If understated is your thing, there's nothing classier than black velvet.
Jay Godfrey Boysenberry Jill Dress
I loved this dress when I rented it. The HUGE bow was my favorite part and the material is buttery smooth.
Alcoolique Glitter Veronica Dress
Cats out of the bag! This is what I'm wearing for Christmas this year! Linda for sure will hate this but I love it lol.
Parker Astrid Velvet Skirt
I LOVEEEEE this skirt. It's comfortable and high waisted. Great for eating a lot lol.
Shoshanna Green Addison Dress
I wore this on air when I anchored my last Thanksgiving show. It was so pretty and I got ZERO mean emails about it. So that's a win lol.
HOLIDAY PARTIES WITH GAL PALS
Elizabeth and James Perry Shift
This is one of my favorite rentals of all time! Pair it with a sheer pair of black tights and your favorite black pumps.
DELFI Collective Pink Lauren Skirt
Wait I lied…this is my favorite rental ever! If looking like a real life sugar plum fairy is your thing…this skirt delivers.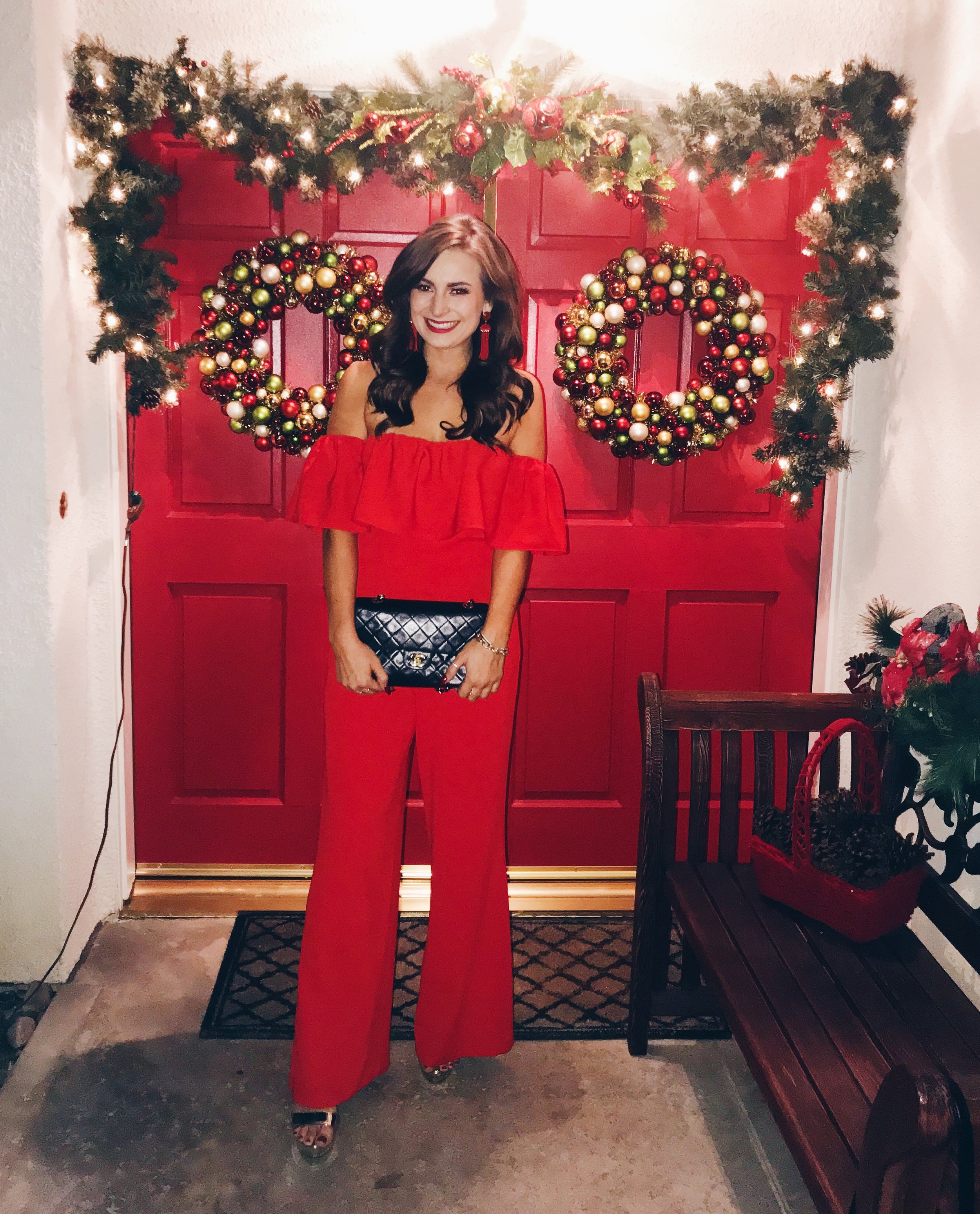 Amanda Uprichard Red Delilah Jumpsuit
This bad boy is PERFECT for a night of dancing.
RAGA Sequin Charlize Blazer Dress
This dress has YAS QUEEN written all over it.
See a theme here? Sequins. Need I say more?
Marchesa Notte Chiffon Sleeve Top
Details, details, details! Pair with black pants or jeans!
Adelyn Rae Karlie Woven Jumpsuit
I wore this for Christmas last year and I loved it. Would be awesome for GNO too!
COVER UP! YOU'RE GOING TO GRANDMA'S!
Tory Burch Cheval Patchwork Skirt
Pair with tights and a turtleneck and you're good to go girl!
Marchesa Notte Delicate Gold Sheath
This is perfect in case your Grandma is Emily Gilmore from Gilmore Girls and lives in a mansion.
CAARA Gala Crème Pleated Skirt
Great staple skirt. Plus it goes down to your ankles so you know you're not offending your stuffy relatives
Rachel Zoe Pewter Rixey Blazer
Oh… you wouldn't wear a sequin blazer to Gma's house? Weird…
SEQUINS FOR NYE? GROUNDBREAKING…
SALONI Aidan Sequin Dress
This dress is fab if you're ringing in the NY somewhere warm. Or pair it with a FAUX fur coat if you're rockin it in the snow
I love me a good crop top. And this one has sequins…so it's a double win!
Halston Heritage Antique Jumpsuit
This is a little different than your typical NYE sequin dress and I'm into it!
Badgley Mischka Green Stripe Sequin Sheath
IDK I just like this. You should rent it.
Marchesa Notte Lilac Pleated Lame Dress
This is a newly added style and I'm super into it!
Free People One More Time Wrap Dress
I own this in pink and it's one of my favorite FP dresses. It's really stretchy and sparkly!
Deby Debo Daphnee Faux Fur Coat
This coat looks and feels like a teddy bear. Plus it's warm AF.
Somedays Lovin Emerald Dreaming Faux Fur Coat
Green. Warm. Cozy. Checks all the boxes
Zadig & Voltaire Fury Faux Fur Coat
I wore this bad boy to death on my trip to Romania & Prague. It kept me super warm!
Novelti Grape Faux Fur Coat
I rented this gorgeous coat last Christmas and it was everything I hoped for and more! Super warm too!
Just Female Green Check Emeline Coat
Going to Ireland? Wear this.
Show Me Your Mumu Miss Cindy Faux Overcoat
LOVE LOVE LOVE! I'm thinking about buying this one when I rent it next!
Unreal Fur Premium Rose Faux Fur Coat
This is the coat version of me…
THAT BLACK TIE EVENT YOU'RE HOPING TO GET INVITED TO
Aiden Mattox Black Bow Crepe Gown
This is the stunning black gown we all hope to wear.
Katie May Bordeaux Apollo Dress
Show a little leg why don't ya?
Black Halo Leta High Low Gown
This is so stunning and I wish I had a black tie event to wear it to…anyone want to invite me somewhere??
Black Halo Molten Off Shoulder Gown
Love the color and the structure. Might even be a good winter wedding option???
Marchesa Notte Silver Embroidered Gown
I've had my eyes on this gown for a while…but again…no occasion. SOMEONE INVITE ME SOMEWHERE FANCY!!!!!!!
Cupcakes and Cashmere Black Sparkle Leggings
These look fun! And LOOK! SPARKLES!!!
Free People Gold Harem Pant
If these don't scream party pants IDK what does. I'm planning to wear these to dinner on Christmas Eve. Again… I think Linda will hate them.
Diane von Furstenberg Leopard Skinny Pant
These scream out on the prowl…
Slate & Willow Orion Cigarette Pant
These scream holiday office party
Osman Red Felix Ruffle Trousers
I just rented these for an Ugly Christmas sweater party. I figured I'd really take the outfit over the top…
Line + Dot Olive Asymmetric Sweater
I just rented this and I couldn't be happier. It's such a fun take on a classic cable knit sweater.
The Jetset Diaries Red Ember Sweater
This looks cozy and I think I want to rent it soon!
ASTR Faux Shearling Brooklyn Jacket
It looks like an actual teddy bear. I'm into it.
Somedays Lovin Clover Fields Sweater
Yellow? For the holidays? WHY NOT!
DON'T FORGET TO ACCESSORIZE!
Kate Spade Black Brigette Bag
Elizabeth Cole Blush Pave Stone Hoop Earrings
These are quite a statement. But I loved them when I rented them.
Lele Sadoughi Crystal Palm Grass Earrings
These look like snowflakes but in earring form
Kate Spade Gold Glitterbug Bag
Great size for just the essentials. It's perfect for a night out on the town!
ZAC Posen Pink Glitter Mini Eartha Bag
This is the perfect party purse.
Ben-Amun Twisted Crystal Bracelet
This is stunning and I've wanted to rent this for a while but I keep forgetting…I need to get better at remembering.
Kate Spade She Has Sparkle Necklace
WOW THAT WAS A LONG ONE…
I think I got a little carried away with all my suggestions lol. But I hope they were helpful! Let me know if you liked this kind of post and I'll make sure to do more!
OH AND IN CASE YOU MISSED IT…. HERE'S A CODE FOR $30 OFF YOUR FIRST ORDER! (BEST30BAE9C)
READ MORE: 3 things to do in Chicago this holiday season
Happy holidays friends! Take time to enjoy friends and family and indulge a little too much in food and wine (at least that's what I plan to do).
xx